Flood Lamps
Replace your flood lamp bulbs with these energy saving linear halogen lamps. Coming in 230w and 400w respectively, these easy-to-use, efficient flood lamps are ideal for providing you with strong security floodlighting. The halogen core reduces evaporation and typically doubles the life of a standard bulb while giving you long-lasting bright light.
* Items marked with the 'Order Today Delivered Tomorrow' graphic qualify for Next Day Delivery only if the item is ordered before the Next Day Delivery cut off time shown on the product page. Some Next Day Delivery services are chargeable.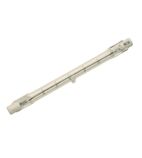 Dimensions: 130(h) x 20(w) x 20(d)mm.
Weight: 15g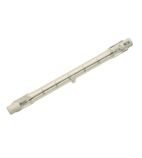 Dimensions: 130(h) x 20(w) x 20(d)mm.
Weight: 15g