Sammic Potato Chippers
Ideal for restaurants and large kitchens, caters for 100-150 Kg/hr production.
The potato hand chipping machine, made of light stainless alloy body, is light and strong at the same time. It allows the user to obtain a clean cut, effortlessly and with minimal wastage. Controls and nuts & bolts are made in stainless steel. Its extended handle provides optimal results with minimal effort.
The use of exchangeable knife blocks and pusher sets allows thicknesses of 8, 10 or 12 mm. to be achieved. The pusher ejects the chips and leaves the grid free.
The CF-5 potato hand chipping machine is comfortable to use. The springs at the rear leave the grid completely free.
CF-5 is equipped with suction feet to provide stability on the work surface.
NSF International certified, the potato hand chipping machine is very easy to clean.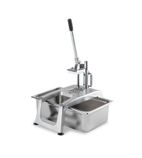 Height (External): 735mm
Width (External): 280mm
Depth (External): 512mm
Power Supply: N/A
Output Per Hour: 100 - 150kg
Weight: 3.9 KG
Warranty: Manufacturers 1 year parts & labour back to base