White Cups
Crisp and attractive white single wall cups from Vegware are completely compostable and can be recycled together with food waste.
Low carbon Vegware catering disposables are sustainably sourced and are certified to break down in less than 12 weeks. Our plant based PLA lined hot drink cups are available in sizes 4, 6, 8, 12, 16 and 20oz and simply say 'completely compostable' on the wall of the cup.
Check out the new colourful collection of 4oz tasting notes cups that bring eco chic into contemporary street food. They're perfect for expressos! Matching compostable lids are available too of course.
* Items marked with the 'Order Today Delivered Tomorrow' graphic qualify for Next Day Delivery only if the item is ordered before the Next Day Delivery cut off time shown on the product page. Some Next Day Delivery services are chargeable.
Case Count: 1000
Items Per Pack: 50
Packs Per Case: 20
Height (External): 6cm
Diameter: 6cm rim
Capacity: 4oz
Weight: 3.9 KG
Colour: White
Temperature Range: 0°C to 85°C

Case Count: 1000
Items Per Pack: 50
Packs Per Case: 20
Height (External): 11cm
Diameter: 8.9cm rim
Capacity: 12oz
Weight: 11.47 KG
Colour: White
Temperature Range: 0°C to 85°C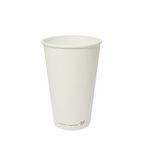 Case Count: 1000
Items Per Pack: 50
Packs Per Case: 20
Capacity: 16oz
Weight: 15.2 KG
Colour: White
Temperature Range: 0°C to 85°C