Electric Atmospheric Steamers
Electric atmospheric steamers deliver excellent control of the cooking environment, managing temperature, humidity and cooking time for perfectly steamed vegetables, meats, hot puddings and other steamed foods. Steaming retains the nutritional content, taste and texture of food very effectively, and is a popular method of cooking in catering operations where there is an emphasis on healthy fresh food.
Efficient electric steam ovens simplify installation as they don't require a gas connection, and some models can be manually filled with water rather plan plumbed in to your water supply.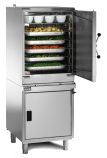 Height (External): 1600mm
Width (External): 600mm
Depth (External): 750mm
Capacity: 6 x 1/1GN
Temperature Range: 0°C to 100°C
Weight: 109.7 KG
Warranty: Manufacturers 2 year on-site parts and labour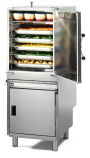 Height (External): 1600mm
Width (External): 600mm
Depth (External): 950mm
Capacity: 6 x 2/1GN or 12 x 1/1GN
Temperature Range: 0°C to 100°C
Weight: 136.5 KG
Warranty: Manufacturers 2 year on-site parts and labour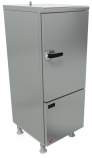 Height (External): 1590mm
Width (External): 600mm
Depth (External): 850mm
Capacity: 6 x 1/1GN
Temperature Range: 0°C to 100°C
Weight: 103 KG
Warranty: Manufacturers 1 year parts and labour