Gas Atmospheric Steamers
The powerful, efficient gas atmospheric steamers stocked by Catering Appliance Superstore simplify the production of perfectly cooked steamed foods, such as fresh vegetables, joints of meat, fish, staples and hot puddings. Steaming preserves the nutrional composition of foods better than any other method of cooking, and steamed food is a popular option for diners who give consideration to a balanced diet when eating out.
Available in propane and natural gas models, and plumbed into your water supply for easy filling; emptying is fast and straightforward too.
* Items marked with the 'Order Today Delivered Tomorrow' graphic qualify for Next Day Delivery only if the item is ordered before the Next Day Delivery cut off time shown on the product page. Some Next Day Delivery services are chargeable.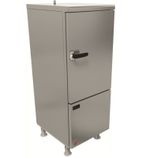 Height (External): 1590mm
Width (External): 600mm
Depth (External): 850mm
Capacity: 6 x 1/1GN
Temperature Range: 0°C to 100°C
Gas Type: Natural Gas
Weight: 96 KG
Warranty: Manufacturers 2 years parts & labour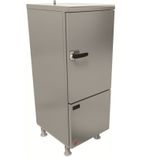 Height (External): 1590mm
Width (External): 600mm
Depth (External): 850mm
Capacity: 6 x 1/1GN
Temperature Range: 0°C to 100°C
Gas Type: Propane Gas
Weight: 96 KG
Warranty: Manufacturers 2 years parts & labour - 2 years parts only for mobile catering units