Bottle Stands
Rotary optic bottle stands do a great job of maximising display storage space for spirits and other small measured drinks. Available in four and six bottle stands, these attractive but rugged stainless steel counter fixed bottle stands provide both efficiency (quick to pour, and easy to store a lot of bottles in a small space) and a great visual advertisement for your product range.
* Items marked with the 'Order Today Delivered Tomorrow' graphic qualify for Next Day Delivery only if the item is ordered before the Next Day Delivery cut off time shown on the product page. Some Next Day Delivery services are chargeable.
Bottle Capacity: 4 Bottles
Capacity: 1 ltr
Weight: 2.45 kg
Width (External): 330mm
Height (External): 438mm
Depth (External): 90mm
Pre-order!
Available from: 12/09/2022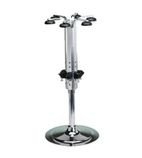 Bottle Capacity: 6 Bottles
Capacity: 1 ltr
Weight: 2.57 KG
Width (External): 240mm
Height (External): 543mm
Depth (External): 240mm