3200w Commercial Microwaves
Powerful commercial microwaves in the 3200w range deliver enough power to actually steam foods from the inside out, converting moisture in the food itself to steam - if used correctly, the quality of the food is therefore often superior to that which is achievable with less powerful microwaves.
These are the most powerful commercial microwaves sold by Catering Appliance Superstore - as a point of comparison they are four times the output of most domestic microwaves used in the home.
Our microwave buying guide explains the range of microwave power available and the types of business they suit the most. Free delivery is available on most products to mainland UK addresses, but please check individual products for exact delivery options (variable by manufacturer).
Commercial Microwave Buying Guide
* Items marked with the 'Order Today Delivered Tomorrow' graphic qualify for Next Day Delivery only if the item is ordered before the Next Day Delivery cut off time shown on the product page. Some Next Day Delivery services are chargeable.
Save Yourself Time!
Answer a few questions and we'll help you find the right
3200w Commercial Microwaves
for your business.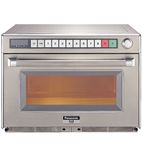 Microwave Power Output: 3200w
Capacity: 44 ltr
User Interface: Digital
Width (External): 650mm
Height (External): 471mm
Depth (External): 526mm
Power Supply: Hardwired - This unit requires a hardwired electrical supply to be installed by a qualified electrician
Finish: Stainless Steel
Weight: 65 KG
Warranty: Manufacturers 3 years parts & labour
In Stock!
£1,723.99
Ex VAT
Was: £1,749.99
£2,068.79
Inc VAT
Was: £2,099.99