6 Plate Electric Boiling Tops
These are the largest countertop electric hotplate units supplied by Catering Appliance Superstore. Extending your cooking capacity enormously, a six plate electric hob unit can be positioned on a surface near existing ovens and hobs, or is easily large enough to position elsewhere and form the basis of an entirely new cook station. Large square hotplates help to maximise the cooking area of each hob.
Six plate electric hobs tends to need a lot of power and are usually hardwired, and may even need three phase power, so they aren't suitable for every kitchen. If you don't have three phase power you might be able to use a four plate and a two plate unit together to achieve the same extra capacity.
* Items marked with the 'Order Today Delivered Tomorrow' graphic qualify for Next Day Delivery only if the item is ordered before the Next Day Delivery cut off time shown on the product page. Some Next Day Delivery services are chargeable.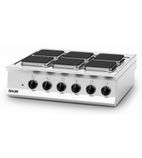 Height (External): 400mm
Width (External): 900mm
Depth (External): 800mm
Weight: 70 KG
Warranty: Manufacturers 2 years parts & labour
In Stock!
£2,469.99
Ex VAT
Was: £2,617.99
£2,963.99
Inc VAT
Was: £3,141.59