Electric Knives
Electric knives are a handy kitchen essential for commercial caterers.
Simple to operate, they are perfect for the quick and easy carving of meat joints and poultry.
They are also useful for slicing bread and cutting vegetables and fruits; electric knives are used effectively for many tasks in the commercial kitchen.
They are easy to use, featuring a straightforward off/on button. A 13A plug is ready fitted and the power rating is 100W.
The serrated stainless steel blade, which is 230mm in length, is easily removable for cleaning.
Blades for use with frozen foods such as bread, fish, cakes and fruit are also available.
* Items marked with the 'Order Today Delivered Tomorrow' graphic qualify for Next Day Delivery only if the item is ordered before the Next Day Delivery cut off time shown on the product page. Some Next Day Delivery services are chargeable.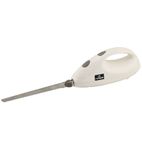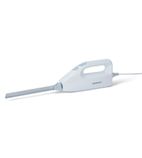 Plug Fitted: Yes
Warranty: N/A
Out of Stock!