Gas Filtration Fryers
Gas filtration fryers are available in single tank and twin tank models. They cost more than their equivalents without filtration, but by removing loose food and other particles from oil during operation they effortlessly increase the life of cooking oil by up to 75%, which will reduce the cost of running your fryer significantly. Our fryer buying guide explains more about the benefits of filtration systems.
* Items marked with the 'Order Today Delivered Tomorrow' graphic qualify for Next Day Delivery only if the item is ordered before the Next Day Delivery cut off time shown on the product page. Some Next Day Delivery services are chargeable.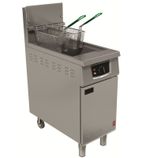 Capacity: 18 Ltr
Power Type: Natural Gas
Gas Supply: 0.75 inch hose
Height (External): 880mm
Width (External): 400mm
Depth (External): 850mm
Finish: Stainless Steel
Weight: 88 KG
Warranty: Manufacturers 2 years parts & labour
£3,538.99
Ex VAT
Was: £3,696.99
£4,246.79
Inc VAT
Was: £4,436.39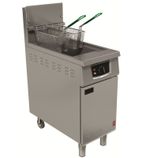 Capacity: 18 Ltr
Power Type: Propane (LPG) Gas
Gas Supply: 0.75 inch hose
Height (External): 880mm
Width (External): 400mm
Depth (External): 850mm
Finish: Stainless Steel
Weight: 94 KG
Warranty: Manufacturers 2 years parts & labour - 2 years parts only for mobile catering units
£3,538.99
Ex VAT
Was: £3,696.99
£4,246.79
Inc VAT
Was: £4,436.39