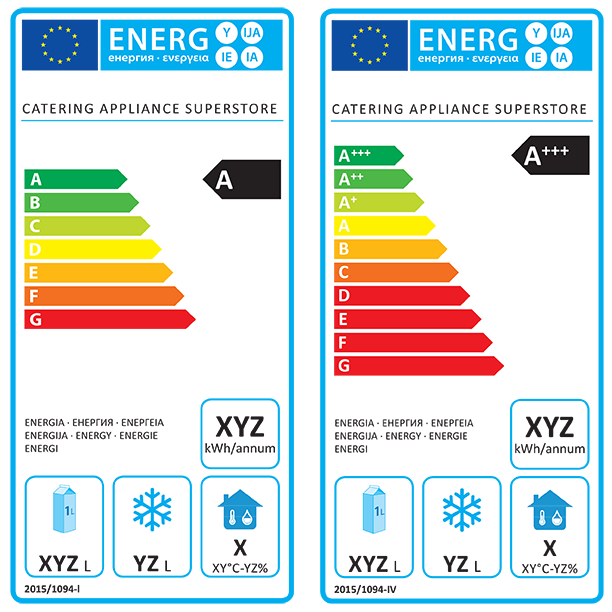 Guide to Ecodesign and Energy Labelling
The Ecodesign Directive is mainly about saving energy. It's primarily here to help foodservice operators reduce energy consumption by ensuring manufacturers develop more energy efficient products.
We're all familiar with energy labelling on domestic appliances such as refrigeration, dishwashers and laundry equipment etc... Now that same labelling system is being applied to commercial catering equipment, it will mean that you will be able to compare models of certain equipment to see which is the most energy efficient. Initially labels from A to G will be required on qualifying products, and over the next few years further A ratings will be added to increase the transparency of product efficiency on top performing models (A+, A++, A+++).
So in simple terms, this will ensure that manufacturers develop more eco-friendly products and you (the buyer) can tell which are the most efficient.
Minimum Energy Performance Standards - These are the standards that all products sold in the EU must pass. They must have at least a 'G' energy label.
Escalator - This term is used to cover the planned upgrades in energy efficiency standards. It's thought that over the coming years, manufacturers will continue to develop more energy-efficient products. This will mean that energy labels will change also, so the efficiency level that was previously graded an A may now become a B.
The first category of equipment to be subject to the Ecodesign and Energy Labelling Directives is refrigeration. Single and double door uprights and counters. As of 1st July 2016, all Professional Refrigerated Storage Cabinets sold in Europe will have to have been tested under the Ecodesign Directive's framework and they will carry Energy Labels.
The Escalator is the reason that there will be initially two versions of the Energy Label, and manufacturers can choose which they prefer to display on their equipment. The first one will show ratings of A to G. The second, which shows more energy-efficient models becoming available, will show ratings of A+++ to G.
Energy Labelling means that you (the buyer) can make an informed choice when it comes to purchasing energy-efficient products. Because every product is tested to the same standards, and because the test methodology is robust and scientific, you will be comparing like for like on a level playing field. The more energy efficient the product is, the lower the running costs will be and the lower the lifetime cost will be.
You will find our category and product pages will show the energy efficiency of any qualifying products. Keep your eyes open for these if you are looking for an efficient appliance.