Heated Carvery Pads
Heated carvery pads are constructed in heavy duty stainless steel, with spikes for holding joints of meat or roast chickens or turkeys in place. They are intended to provide a stable base for carving meats in a carvery style pub or restaurant operations, and can be positioned beneath a heated gantry (ensuring the joint temperature is maintained from above and below).
Variable heat control on the heated carvery pad allows you to adjust for the perfect temperature to keep the joint hot without scorching the bottom. A removable top enables easy cleaning. Units are generously proportioned to be able to handle large items.
* Items marked with the 'Order Today Delivered Tomorrow' graphic qualify for Next Day Delivery only if the item is ordered before the Next Day Delivery cut off time shown on the product page. Some Next Day Delivery services are chargeable.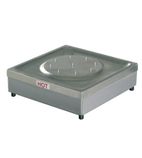 In Stock!
£442.99
Ex VAT
Was: £458.99
£531.59
Inc VAT
Was: £550.79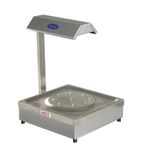 In Stock!
£640.99
Ex VAT
Was: £663.99
£769.19
Inc VAT
Was: £796.79