Middleby Marshall
From top pizza chains to independent operators, for more than 130 years, Middleby Marshall has been leading the world in conveyor cooking innovation. Their ovens are more energy and labour efficient while increasing productivity and making cooking faster and more consistent.
Available in a wide variety of size and configurations, from countertop sizes to 70" cooking belt there's bound to be a Middleby and Marshall Oven to suit your needs.
Their impingement oven is hugely versatile, so much so you can use one oven for an exciting and wide ranging menu, it's not just for Pizza.
They have been winning awards for their WOW! Oven™ for it's advanced technology and offering the fastest cook time on the market.
The Elgin is so well known it's trusted and used worldwide by large and small pizza chains
Top operators use Middleby Marshall ovens.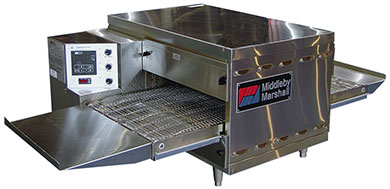 Middleby Marshall have several ranges of conveyor ovens, including:
Traditional Conveyor Ovens
Traditional Countertop Conveyor Ovens
Direct Gas Fired Conveyor Ovens
Heavy-duty, Electric, Conveyor Ovens
Fast Conveyor Bake Ovens