Scalloped Knives
Scalloped knives have a razor sharp saw-like blade that makes for smoother slicing and a faster, more productive job. They work because the scalloped blade holds fluid from the vegetable, meat or fruit and creates fine air pockets between the blade and the food being cut. This speeds up the slicing and gives a clean finished product.
The Hygiplas 5" scalloped blade utility knife is dishwasher proof and features a green handle for salad and fruit. Victorinox finest Swiss steel salmon knives have 12" flexible blades and have an anti-slip nylon Fibrox handle.
These scalloped knives are excellent value for money and will repay their cost time and time again.
* Items marked with the 'Order Today Delivered Tomorrow' graphic qualify for Next Day Delivery only if the item is ordered before the Next Day Delivery cut off time shown on the product page. Some Next Day Delivery services are chargeable.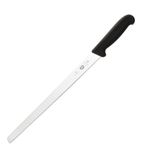 Knife Colour: Black
Knife Length: 12"
Knife Type: Salmon Knife
Age Restriction: 18+