Turning Knives
Buy from our wide range of turning knives for professional caterers. Sourced from top manufacturers Victorinox, Gustav Emil, Dick and Wusthof, our turning knives are perfect for peeling, cleaning and shaping any vegetable or fruit that has a rounded surface.
Turning knives can cut decorative garnishes, such as rosettes and fluted mushrooms. Classically, they are used to make a tournee cut in vegetables such as carrots. Their blades tend to be of short length with a pointed tip that curves downwards toward the blade.
Available at excellent value for money prices, our turning knives are an indispensable item in the commercial kitchen.
* Items marked with the 'Order Today Delivered Tomorrow' graphic qualify for Next Day Delivery only if the item is ordered before the Next Day Delivery cut off time shown on the product page. Some Next Day Delivery services are chargeable.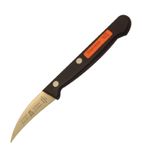 Knife Colour: Black
Knife Length: 2.5"
Knife Type: Turning Knife
Age Restriction: 18+