Public Sector
We offer 30 day accounts to public sector organisations
Public Sector Orders and Support Services
We understand that in many ways procurement in the public sector can be a more challenging proposition than it is in the private sector. Procurement managers in government agencies and government funded bodies, such as the emergency services, healthcare trusts, educational facilities and correctional facilities, must demonstrate value for taxpayers money and a completely transparent tendering process, particularly for high value contracts.
Like in the largest corporations, life in public sector organisations tends to be complex, and a common approach to combating this is to adopt a single standard for end to end processes like purchasing and logistics, across all suppliers. This "single process" will vary between organisations, and Catering Appliance Superstore understand that the onus should be on the supplier to adapt to each public sector agency's preferences.
We are very willing to enter into discussions regarding streamlining procurement processes in a Service Level Agreement, making an ongoing relationship easier, and if need be we will structure the management of your account to join up correctly with the right touchpoints in your procurement chain. Our friendly, knowledgeable and highly trained sales team will document and script the process so that you get consistency of service on each call or website order.
We are pleased to offer public sector organisations alternative payment options for their catering equipment orders. We offer 30 day accounts on all orders for the following public sector categories:
County Councils
Health Authorities
Local Authorities
Ministry of Defence
Government Organisations, Local or National
Schools, Colleges and Universities
Prisons
We have a good knowledge of the types of equipment that these environments are likely to need, and over time have expanded our product offering to further support the requirements of the public sector. Cost effective catering for employees (canteen and breakroom equipment) and for customers (restaurants and cafes in public spaces) needs to be competitively priced, robust, easy to clean and simple to use.
Public Sector Online Orders
Public Sector customers can simply during checkout select the 'Pay on account' payment option

On the next screen (after entering your billing and delivery address) you will be able to submit your purchase order number and upload a pdf copy of it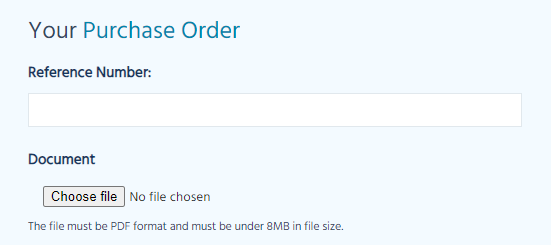 Then select your delivery options, review and agree to our terms and you're done. It's that simple
Alternatively please contact us with your requirements in any of the following ways:
Email: sales@catering-appliance.com
Tel: 01539 760 650